Taranis Q X7
Charger Kit
http://alofthobbies.com/qx7-charger-kit.html
7.2 V 2600 AA NiMH QX7 Transmitter Pack
http://alofthobbies.com/72v-2600-aa-nimh–qx7-transmitter-pack.html
Stepped Drill Bits
https://www.banggood.com/3Pcs-14-Inch-Hex-Shank-HSS-Titanium-Coated-Step-Drill-Bit-Set-3-124-124-20mm-p-1003275.html?p=HJ0521658959201407VF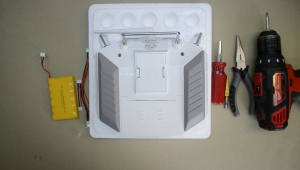 Steps
Remove the nut from the charging jack. It slips over the white plugs on the wires. It may be a tight fit but it will slip over.

You can remove the pins from the larger white plug to make this easier.

Install the charging jack on the right hand side of the bottom half of the case.

Use the nut to help determine where to place the centre of the hole to be drilled.
Position the nut so that it will rotate and not get caught on the sides of the case.
The recommended hole diameter is  a half inch or twelve millimetres.

Feed the wires and charging jack through the hole.

When tightening the nut take care not to strip the plastic threads.

If you did remove the pins make sure you put them back on the plug with the correct polarity.
Plug one of the wires from the charging jack into the circuit board's battery connector.

Put the case back together, once again taking care not to damage the module bay pins.
Feed the charging jack wires through the battery bay and put the case back together.

Once the case is screwed back together guide the wires into the gap between the circuit board and the bottom of the battery bay.

Plug in the battery clip or battery pack using the second white plug from the charging jack.
Once you are done it may be helpful to put a label near the charging jack to indicate that a NiMH charger must be used.

The power adapters that come with the other Taranis transmitters can not be used because they are basic power supplies without any charging circuitry that ensures that the correct constant current is being used to charge these NiMH batteries.
This charging kit comes with a charger that auto senses home many NiMH batteries are being used and then supplies the appropriate constant current required to safely charge them.

Comments, Questions & Help