About FrSKY
FrSKY was founded in 2010 and has more than 40 patents. Based in China they have dealers all around the word.
Authorized Dealers
Note: Only their premier dealers provide after sales service, support, replacement and warranty.
Features Common To All FrSKY Transmitters
Up to 60 models (more on SD Card)
Receiver/model match
Audio announcements (SD Card required)
Programmable actions, curves, flight modes, audio announcements and alerts
Telemetry
New Model Wizard (SD Card required)
3 Timers with throttle % option
16 Channels
Up to 32 Channels using External JR Module Bay
Trainer port, 3.5mm stereo or mono headphone jack
Mini USB port for software updates, configurations, Joystick Emulation & SD Card access
Compatible with Spektrum, Futaba and all major brands using a module placed in the external module bay
DIY Upgradeable to Hall Effect Gimbals
​Reasonably priced and easily available spare parts
​Battery & Charger included except where noted
Firmware may be changed to OpenTX
Available Transmitter Models
2018 January 16 – Prices in USD, Aloft Hobbies, plus shipping.
Taranis Q X7 ($110) & X7S ($184)
OpenTX
Black & White LCD 128 x 64
6 Switches – 4 x 3-position, 1 momentary, 1 x 2-position
2 Knobs
No Sliders
S.Port Jack
Vibration alerts
Wireless trainer on the X7S
M7 Hall Effect Gimbals on the X7S
Soft case included on the X7S
Battery & Charger usually extra X7, included with the X7S
RAM 128K
Note: The X7 series requires you to open up the case to set the sticks to mode 1 or mode 2. If you are not comfortable doing this buy an X9D+ which comes preconfigured to mode 1 or mode 2 or ask your supplier if they will do the X7 mode 1 or mode 2 configuration for you.
Taranis X9D+ ($189) & X9D+SE ($257)
OpenTX
Greyscale LCD 212 x 64
8 Switches – 6 x 3-position, 1 momentary, 1 x 2-position
2 Knobs
2 Sliders
Vibration alerts on the +
Only + available for new purchase
M9 Hall Effect Gimbals on SE
Case included with SE
Ram 128K
Taranis X9E ($315)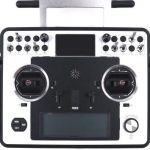 OpenTX
Tray version of the X9D+
Colour OLED top display
Greyscale LCD 212 x 64
8 Switches – 6 x 3-position, 1 momentary, 1 x 2-position
2 Knobs
4 Sliders
Vibration alerts
DIY M9 Hall Effect Gimbals upgrade available
Soft case included
RAM 192K
Horus X10 ($369) & X10S ($430)
FrOS, Changeable to OpenTX
Colour outdoor TFT 480 x 272
8 Switches – 6 x 3-position, 1 momentary, 1 x 2-position
3 Knobs – 1 x 6-position, 2 smooth
2 Sliders
2 extra trims
Vibration alerts
Wireless trainer
2 internal antennas
Internal Li-ion battery
Support FrSKY Free Link App (unavailable with OpenTX)
M10 Hall Effect Gimbals on the X10
MC12P Hall Effect Gimbals on the X10S
RAM 8MB
Horus X12S ($499)
FrOS, Changeable to OpenTX
Colour outdoor TFT 480 x 272
8 Switches 6 x 3-position, 1 momentary, 1 x 2-position
3 Knobs – 1 x 6-position, 2 smooth
4 Sliders – 2 rear, 2 front
2 extra trims
GPS and 6 axis sensors
Haptic vibration
Wireless trainer
Hall Effect Gimbals
Hard case
RAM 8MB
Available Receiver Models ($10 to $25)
X Series
Smart Port (a hub-less sensors technology), S.Port/SPort
Receivers that feature telemetry can be connected to the X series sensors
Telemetry receivers feature built in receiver bus voltage and RSSI feedback
Bind in D16 mode
SBUS and CPPM outputs on most receivers, check receiver details
6-8 PWM outputs but accessing up to 16 channels using SBUS

S Series Receivers
A subset of X series receivers
Adds stabilization, auto level, recovery/oops, hover, knife edge

R Series Receivers/Redundancy Bus
A subset of X series receivers
Adds the ability to attach a second receiver vis SBUS for for redundancy
Use a Redundancy bus module to use two non R series receivers
Use one R series receiver with a non R series receiver
XM Series Receivers

Lightweight and tiny
Failsafe
No telemetry
SBUS​
RSSI out on CH16 for flight controller
Available Sensor Modules ($10 to $50)
Chain sensors together or use Y cables
Needs an S.PORT on the receiver (X series receivers)
Lipo voltage sensors
Varios
RPM with temperature
Current
Air speed
GPS