About FrSKY
FrSKY was founded in 2010 and has more than 40 patents. Based in China they have dealers all around the word.
Authorized Dealers
Note: Only their premier dealers such as Aloft Hobbies provide after sales service, support, replacement and warranty.
Features Common To All FrSKY Transmitters
Up to 60 models (more on SD Card)
Receiver/model match
Audio announcements (SD Card required)
Programmable actions, curves, flight modes, audio announcements and alerts
Telemetry
New Model Wizard (SD Card required)
3 Timers with throttle % option
16 Channels
Up to 32 Channels using External JR Module Bay
Trainer port, 3.5mm stereo or mono headphone jack

Not present on the X-Lite

Wireless training where specified

Uses FrSKY's own implementation of bluetooth
Only compatible with other FrSKY transmitters with wireless training specified

Micro SD card slot (card not included)
Mini USB port for software updates, configurations, Joystick Emulation & SD Card access (X-lite micro USB)
Compatible with Spektrum, Futaba and all major brands using a module placed in the external module bay
DIY Upgradeable to Hall Effect Gimbals
Firmware may be changed to OpenTX if not already installed
Use Companion for OpenTX computer software to simulate and configure radio and models
Available Transmitter Models
Prices in USD, Aloft Hobbies, plus shipping.
Taranis X-Lite ($120)
OpenTX
Black & White LCD 128 x 64
4 Switches – 2 x 3-position, 2 x 2-position
No Knobs
2 Sliders
Vibration alerts
No 3.5mm trainer jack
M12 Lite Hall Effect Gimbals
Soft case included
Two 18500 batteries & charger usually extra
FrSKY FreeLink App compatible
RAM 128K
Mode 1 & 2 configurable
Internal antenna and external antenna connector
Note: Mode 1 and 2 conversion adjustment can be made without opening the case.
Taranis Q X7 ($110) & X7S ($184)
OpenTX
Black & White LCD 128 x 64
6 Switches – 4 x 3-position, 1 momentary, 1 x 2-position
2 Knobs
No Sliders
S.Port Jack
Vibration alerts
Wired trainer
Wireless trainer on the X7S
M7 Hall Effect Gimbals on the X7S
Soft case included on the X7S
6 cell NiMH Battery pack & charger usually extra X7, included with the X7S
RAM 128K
Mode 1 & 2 configurable, comes without modes configured. Both gimbals centred.
Note: The X7 series requires you to open up the case to set the sticks to mode 1 or mode 2. If you are not comfortable doing this buy an X9D+ which comes preconfigured to mode 1 or mode 2 or ask your supplier if they will do the X7 mode 1 or mode 2 configuration for you.
Taranis X9D+ ($189) & X9D+SE ($257)
OpenTX
Greyscale LCD 212 x 64
8 Switches – 6 x 3-position, 1 momentary, 1 x 2-position
2 Knobs
2 Sliders
Vibration alerts on the +
Only + available for new purchase
M9 Hall Effect Gimbals on SE
Case included with SE
6 cell NiMH Battery pack and charger included
Ram 128K
Mode 1 or 2 selected at purchase but changeable by opening the case and making adjustments
Taranis X9E ($315)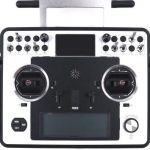 OpenTX
Tray version of the X9D+
Colour OLED top display
Greyscale LCD 212 x 64
8 Switches – 6 x 3-position, 1 momentary, 1 x 2-position
2 Knobs
4 Sliders
Vibration alerts
DIY M9 Hall Effect Gimbals upgrade available
Soft case included
6 cell NiMH Battery pack and charger included
RAM 192K
Mode 1 or 2 selected at purchase but changeable by opening the case and making adjustments
Horus X10 ($369) & X10S ($430)
FrOS, Changeable to OpenTX
Colour outdoor TFT 480 x 272
8 Switches – 6 x 3-position, 1 momentary, 1 x 2-position
3 Knobs – 1 x 6-position, 2 smooth
2 Sliders
2 extra trims
Vibration alerts
Wireless trainer
2 internal antennas
Support FrSKY Free Link App (unavailable with OpenTX)
M10 Hall Effect Gimbals on the X10
MC12P Hall Effect Gimbals on the X10S
Internal Li-ion battery and charger included
RAM 8MB
Mode 1 or 2 selected at purchase but changeable by opening the case and making adjustments
Horus X12S ($499)
FrOS, Changeable to OpenTX
Colour outdoor TFT 480 x 272
8 Switches 6 x 3-position, 1 momentary, 1 x 2-position
3 Knobs – 1 x 6-position, 2 smooth
4 Sliders – 2 rear, 2 front
2 extra trims
GPS and 6 axis sensors
Haptic vibration
Wireless trainer
Hall Effect Gimbals
Hard case
Internal Li-ion battery and charger included
RAM 8MB
Mode 1 or 2 selected at purchase but changeable by opening the case and making adjustments
Available Receiver Models ($10 to $25)
X Series
Smart Port (a hub-less sensors technology), S.Port/SPort
Receivers that feature telemetry can be connected to the X series sensors
Telemetry receivers feature built in receiver bus voltage and RSSI feedback
Bind in D16 mode
SBUS and CPPM outputs on most receivers, check receiver details
6-8 PWM outputs but accessing up to 16 channels using SBUS

S Series Receivers
A subset of X series receivers
Adds stabilization, auto level, recovery/oops, hover, knife edge

R Series Receivers/Redundancy Bus
A subset of X series receivers
Adds the ability to attach a second receiver vis SBUS for for redundancy
Use a Redundancy bus module to use two non R series receivers
Use one R series receiver with a non R series receiver
XM Series Receivers

Lightweight and tiny
Failsafe
No telemetry
SBUS​
RSSI out on CH16 for flight controller
Available Sensor Modules ($10 to $50)
Chain sensors together or use Y cables
Needs an S.PORT on the receiver (X series receivers)
Lipo voltage sensors
Varios
RPM with temperature
Current
Air speed
GPS