The settings on this
optional
screen are for cyclic collective pitch mixing (CCPM) used by flybared helicopters where the receiver (and some controllers) directly controls the swash servos. Most flybar controllers do not need the transmitter to do the CCPM.
The outputs of the CCPM mixer are CYC1, CYC2 and CYC3, which need to be assigned on the MIXER screen to the channels you will connect your servos to.
The settings made here have no effect unless you are using those CYC1, CYC2 and CYC3 sources. A multirotor or flybarless helicopter which uses onboard computers/mixers will NOT use them.
To learn how to use these settings visit OpenTX University and read their CCPM for Taranis post.
Screen Layout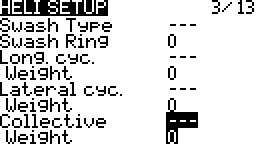 Editing
General editing instructions are covered on the Screen Navigation page under editing.
Settings
Swash Type
Swash Ring
Limits the control authority.
Long & Lateral Cylinder And Collective
Source of control:
Inputs – Sources configured on the inputs screen.
Sticks – Throttle, Rudder, Elevator, Aileron
Pots – Knobs and sliders
MAX – 100%
Cyclic – CYC1, CYC2, CYC3
Trims – Throttle trim, Rudder trim, Elevator trim, Aileron trim
Switches – Any transmitter switch
Channels – Channels 1 to 4
Trainer – Trainer channels 1 to 16
Weight
Controls how much of the source value to use.
Examples:
Source 100%, Weight 100%
Output = 100% x 100/100 = 100%
Source 50%, Weight 100%
Output = 50% x 100/100 = 50%
Source 50%, Weight 50%
Output = 50% x 50/100 = 25%