Background
After having been stung by a $60 UPS bill at the door on a purchase of just over $112 (USD 86). I decided to look into ways to avoid this in the future. Of the $60 about $30 was the UPS broker fee. The rest was 13% taxes on the purchase, 10% duty and the UPS charge. RC hobby craft and parts are categorized as toys and are duty exempt so duty should not have been charged.
I also stumbled across a new credit card as a way to avoid paying the 3% fee that Credit Card companies and PayPal charge when doing a currency exchange.
Lets start with the new credit card option.
Minimize Exchange Rate Fees
Amazon.ca Rewards Visa Card
No Foreign Currency Transaction Fees (saves about 3%)
Cash back as a credit to your Amazon.ca account
2% cash back per $1 spent on Amazon.ca
1% cash back per $1 spent everywhere else
No annual fee
Cash back credited in $20 increments ($1000-2000 spend)
1,607 reviews averaging 3.9 out of 5*
(5* 785, 4* 322, 3* 198, 2*112, 1* 190) as of July 14, 2016
Customs Clearance Options (Broker)
Self Clear Your Package
Call the courier and tell them that you will clear the package yourself. If the customer service representative gives you a hard time ask to speak to their supervisor.
OR
If you didn't inform the courier that you will self clear and are presented with a bill on delivery (COD) then ask the driver to take that package back to be held while you get it cleared yourself. Note: FedEx Canada sends you a bill in the mail after delivery at which point it is too late and you have to pay it.
http://www.cbsa-asfc.gc.ca/import/courier/lvs-efv/prsn-eng.html#_s2
"When the courier attempts to deliver the shipment, you must refuse delivery and advise the courier that you will pay duties and/or taxes directly to the CBSA. Write down the unique shipment identification/tracking number. The shipment will be returned to the courier's warehouse for storage for a limited period of time."
Locate your closest Canada Border Services Agency (CBSA) service office that offers "Courier Low Value Shipment Program" services.
http://www.cbsa-asfc.gc.ca/do-rb/services/lvs-efv-eng.html
Visit the the local CBSA office with the following:

Shipment identification/tracking number
Commercial invoice (receipt)
Personal identification
Payment

The CBSA will give you a receipt.
Call the courier company to find out your next steps.
Usually the receipt must be taken to the local parcel holding location where they take it from you and give you your package.
Use a third party broker like Border Bee
I have used Border Bee and am happy with their rates.
As of June 23, 2016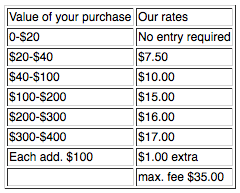 As soon as your purchase ships:
Download a copy of your purchase invoice.
Locate and keep the courier tracking number ready.
Visit https://borderbee.com and click on "Clear Customs".
Follow the steps which include uploading a copy of your purchase invoice and providing the tracking number.
You will receive an e-mail outlining your next steps.

Respond that you agree to the terms and fees.
Inform the courier company that Border Bee will clear your package.
Pay Border Bee for their service and the CBSA charges.
The package is delivered by the courier company.
Update Broker Information
UPS
(800) 742-5877,3
broker@ups.com
FedEx
(800) 463-3339,
Say 'update broker information.'
DHL
(855) 345-7447,1,3
Online